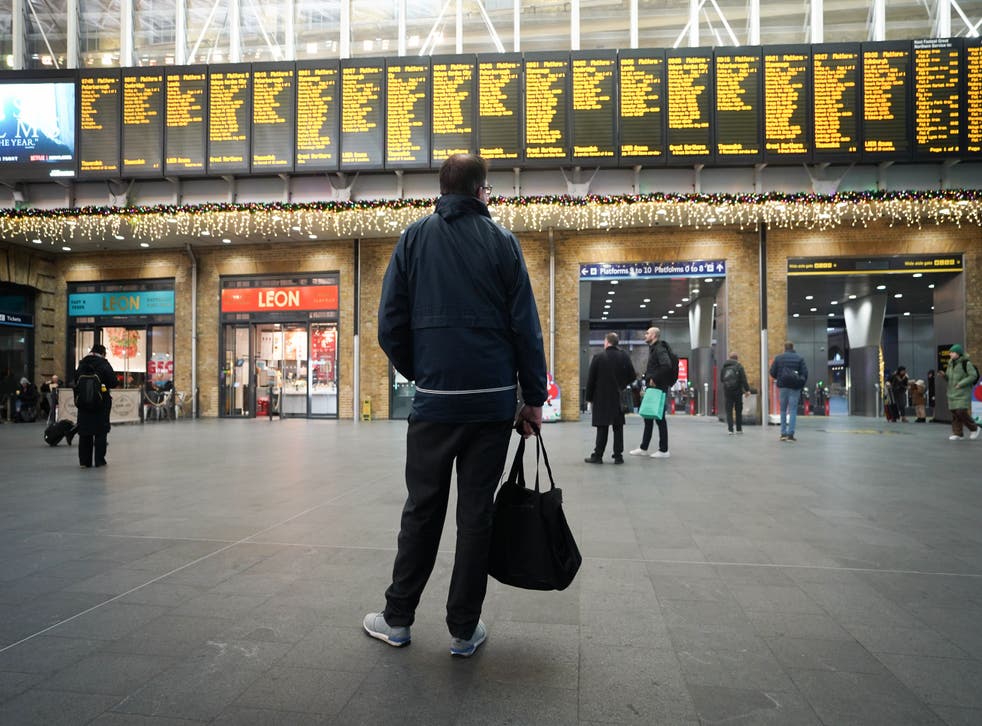 Some roads were hit with congestion as rail services stopped ahead of a 18:00 GMT walkout by RMT union members.
But the AA said disruption was "not as bad as expected" as people headed home for the festive period.
Postal workers and Border Force staff also took part in the latest walkouts over pay in the run-up to Christmas.
Services to Crewe, Manchester Piccadilly, Glasgow Central and Birmingham International from Euston were among those delayed because of a limited staff presence.
Around 1,000 Border Force workers began strike action on Friday at Heathrow, Gatwick, Manchester, Birmingham, Cardiff and Glasgow airports, as well as the Port of Newhaven.
Border disruption has been minimal, with military personnel and civil servants being drafted in to cover strikers.
Heathrow Airport said operations were running smoothly on Saturday. A spokesperson added: "The immigration halls are free flowing with Border Force and the military contingency providing a good level of service for arriving passengers."
Meanwhile industrial action at Network Rail, which maintains the UK's rail system, will continue until 06:00 on 27 December.
The last train times on major routes on Christmas Eve included the 09:45 from Leeds to London, the 11:22 from London to Edinburgh, and the 12:48 from London to Manchester.
Families at London's Paddington Station told BBC News they felt anxious over the strikes.
Leela, Richard and their baby Kalinda said they were on their way to Bristol to spend their first Christmas with family since the pandemic, but had been "checking all week that the trains were not going to be cancelled".
Meanwhile a couple of miles away at Euston Station, Kartik Aggarwal's train has been cancelled. The 24-year-old student said he faced missing a Christmas party in Birmingham.
"It's been really bad," he said. "We were planning for a long time only to have two trains get cancelled with no notification."
Elsewhere, Ollie Smith, 29, was travelling from Reading to Stockport to spend Christmas with his brother, but said his train got held up outside Birmingham New Street over limited capacity at the station due to engineering works.
He said the train was then reversed back to Birmingham International and cancelled – while he was still on board.
Jack Couzens, head of roads policy at the AA, said traffic on the roads was moving fairly well so far on Saturday but added that rail strikes had led to more people "jumping into their cars".
"There have been pockets of congestion on the A13, the M25, the M5… but as things stand traffic is moving okay," he said at lunchtime.
The railway strikes come at a time of widespread industry walkouts, as staff across a range of sectors are involved in disputes over pay, jobs and working conditions as the cost of living soars.